Savings at RealExams!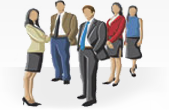 Limited Time
15% Discount OFFER
USE PROMOCODE
15OFF
RealExams Guarantee

14,000+ Customers
Money Back Guarantee
Free Of Cost Updates
Immediate Download
Regular Exam Updates
Superb Pass Rate of 98.9%
Power Packs
Save your money with Royal Packs for most popluar CompTIA and Microsoft certifications from Real-Exams.

Over 6 Year experience at your command
Matchless Success Rate of 99 %
Question and Answer material reaching figure of 3218
Preparation Labs standing at 108
3 dozen Experience technical writers
14,417 Successful Examinees
3,390 Demos available at click for download
Success at two week preparation
Our efficient training materials save your cost up to 78%

Easier way to pass
Nuts and bolt to get ready, take and get through the certification exams
Simple as ABC - immediate download
Unmatched - Protected Website for Online Shopping, Round the clock Support
Proficient - Provision of 90 day free of cost update to assure success
Reputed - More than 14,417 candidates relied on Realexams to get through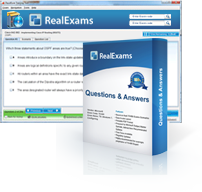 Try Our Free Demo
We value your privacy. We will not share your personal information with third parties without your consent. View our privacy policy.

See All

Success with RealExam
I Resolved Each And Every Problem Through Real Exams

The great help provided to me by Real Exams was an exceptional and a satisfactory one and it has really made things easier. Everything went in the right direction and the only reason was that I had the products of Real Exams which let me have the perfect understanding of everything related to the 70-662 MCTS: Exchange Server 2010, Configuration course Each and everything went satisfactorily and that is the pure greatness that I have found everything to be very reliable and I got out of each and every problem by the help and the experts of Real Exams. Milo Wade
Irreplaceable Characteristics Are Held.

Real-exams is such a gem that makes you realize that none like it exists and what it holds are the most irreplaceable qualities. It not only understands the pressure the students face before the CEHexam but also understands the dreams stored within them. The dream of achieving good amount of success. And the honesty is remarkably appealing because it's a rare quality which is barely found in any other engine. Real-exams really is so irreplaceable that it fills me with great pride to have trusted it. Harry John.
I Turned To Real Exams CCAA

Thanks for getting me turned on to you program. I've been working on these Citrix exams for the past year. I had failed twice with other material. After doing your program I passed my exam on the next test. Given to some people these tests are easy and passable on the first try but I'm a blue collar guy trying to fit in this white collar world, it was hard. The Real Exams program took the fancy words and unnecessary exam CCAA material out of the way so I was able to actually know what I'm studying. Simon