Savings at RealExams!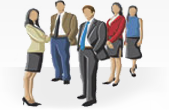 Limited Time
Discount OFFER
USE PROMOCODE
10OFF
RealExams Guarantee

14,000+ Customers
Money Back Guarantee
Free Of Cost Updates
Immediate Download
Regular Exam Updates
Superb Pass Rate of 98.9%
Power Packs
Save your money with Royal Packs for most popluar CompTIA and Microsoft certifications from Real-Exams.

Over 6 Year experience at your command
Matchless Success Rate of 99 %
Question and Answer material reaching figure of 3218
Preparation Labs standing at 108
3 dozen Experience technical writers
14,417 Successful Examinees
3,390 Demos available at click for download
Success at two week preparation
Our efficient training materials save your cost up to 78%

Easier way to pass
Nuts and bolt to get ready, take and get through the certification exams
Simple as ABC - immediate download
Unmatched - Protected Website for Online Shopping, Round the clock Support
Proficient - Provision of 90 day free of cost update to assure success
Reputed - More than 14,417 candidates relied on Realexams to get through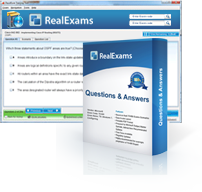 Try Our Free Demo
We value your privacy. We will not share your personal information with third parties without your consent. View our privacy policy.

See All

Success with RealExam
Completely Unique

I am so grateful to Real Exams for caring enough to do it right. It possesses the passion and the tools to prepare you for your certifying exam and you will pass, all the while exhibiting grace and confidence under pressure. There is no better way to prepare for your Project Management Professional exam. YOU MUST TAKE THIS COURSE! It is as close to a guarantee to passing the PMI exam as you can get ... trust me, I tried everything else! This course is completely UNIQUE. In addition, it is cheaper to take the course than it is to re-take the exam! Linsey Gold
It Is Simply The Best

Real-exams has given many candidates like me a very good way of preparing for the difficult rhce exam. It is difficult and it is mostly due to the lack of practice from candidates end. I got to practice a lot with this portal's rhce boot camp and it was very operative throughout the season and with the constant updates regarding rhce course details it provided with the best service. This website has its own unique way of teaching which is really good and students grasp everything quite easily. Rhce labs were very good at putting this into effect. John Raymond
This Is Your Chance So Avail It!

Getting to be a part of real-exams is a chance you will certainly not want to miss for this is the most epic online study guide and this is the one which can do wonders for your exam preparation and with its help you can be at the top of the world. Preparing for the certification exam using this guide helps you with the itil practice exams that are a way for you to do well in the itil exams and the and pass the itil certification exam with ease. John Greening