Savings at RealExams!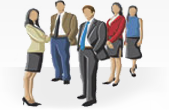 Limited Time
15% Discount OFFER
USE PROMOCODE
15OFF
RealExams Guarantee

14,000+ Customers
Money Back Guarantee
Free Of Cost Updates
Immediate Download
Regular Exam Updates
Superb Pass Rate of 98.9%
Power Packs
Save your money with Royal Packs for most popluar CompTIA and Microsoft certifications from Real-Exams.

Over 6 Year experience at your command
Matchless Success Rate of 99 %
Question and Answer material reaching figure of 3218
Preparation Labs standing at 108
3 dozen Experience technical writers
14,417 Successful Examinees
3,390 Demos available at click for download
Success at two week preparation
Our efficient training materials save your cost up to 78%

Easier way to pass
Nuts and bolt to get ready, take and get through the certification exams
Simple as ABC - immediate download
Unmatched - Protected Website for Online Shopping, Round the clock Support
Proficient - Provision of 90 day free of cost update to assure success
Reputed - More than 14,417 candidates relied on Realexams to get through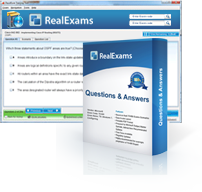 Try Our Free Demo
We value your privacy. We will not share your personal information with third parties without your consent. View our privacy policy.

See All

Success with RealExam
Real Exams Let Me Develop Strong Understanding Of The Course

Get your preparation move ahead through the great and inspiring work of Real Exams. I did everything to make things under control and they came up perfect by the grace of God. Nothing is more economical than these products that's what I found out after surveying the market and that's the basic reason I opted for Real Exams. Due to the great work done by you guys I got succeeded in the 70-448 MCITP: Business Intelligence Developer 2008 and now looking forward to make a huge impression in the industry with my great and reliable skills which were developed through Real Exams. William Ross
Keep Your Spirits High With Real Exams Products

Make it sure that the preparatory material you trust for your certification fulfills the demands and the needs of the certification exam and prepare you in the right way. Real Exams helping material satisfies all the conditions of the certification exams and that's why I utilized that study material for the preparation of Microsoft MB2-866 certification and made up my career in that way. Thank God that everything has gone so well for me and I got passed in the Microsoft Dynamics CRM MB2-866 exam. Andre Drew
Only a brain can handle things at last moment.

I was the one who took the decision for signing up with Real-exams at the last moment. I was totally freaked out as many days went away and I was just wasting my time. This was the only time to rush out and do something for A+ paper. I took Real-exams as my everything, which I only had. I had nothing with me. It was embarrassing but this tool was enough. At the end I passed my A+. So many times we do have to make conclusion for what...we...have...to...do. Smallwood Ether