Savings at RealExams!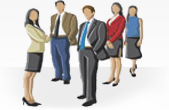 Limited Time
15% Discount OFFER
USE PROMOCODE
15OFF
RealExams Guarantee

14,000+ Customers
Money Back Guarantee
Free Of Cost Updates
Immediate Download
Regular Exam Updates
Superb Pass Rate of 98.9%
Power Packs
Save your money with Royal Packs for most popluar CompTIA and Microsoft certifications from Real-Exams.

Over 6 Year experience at your command
Matchless Success Rate of 99 %
Question and Answer material reaching figure of 3218
Preparation Labs standing at 108
3 dozen Experience technical writers
14,417 Successful Examinees
3,390 Demos available at click for download
Success at two week preparation
Our efficient training materials save your cost up to 78%

Easier way to pass
Nuts and bolt to get ready, take and get through the certification exams
Simple as ABC - immediate download
Unmatched - Protected Website for Online Shopping, Round the clock Support
Proficient - Provision of 90 day free of cost update to assure success
Reputed - More than 14,417 candidates relied on Realexams to get through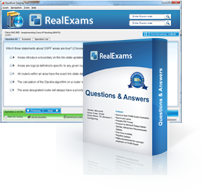 Try Our Free Demo
We value your privacy. We will not share your personal information with third parties without your consent. View our privacy policy.

See All

Success with RealExam
Become comfortable with Real-exams

I was not able to pass my SSAT exam last year because I did not prepare well. The preparation material and the vocabulary was not enough to pass the test. Then my class fellow recommended me real-exams SSAT sample test. The SSAT practice tests helped me to explore the new horizon. I did great in my test and interview this year. Now i feel confidence in me. My speaking power is batter then before. Now I can impress my friends. I recommend all the students to use real-exams SSAT practice test. It's perfect. Annie Brown
toefl courses online

Real-Exams is a fantastic information provider website with very innovative features and up to date information. I got information about the toefl ibt course on Real-Exams easily and without any delay. It gave me immense pleasure for not moving around to gather initial information from a source and rush for another, to start toefl english course formally. Everything was available on a single point, and that was Real-Exams. It was very lively and interactive where I enjoyed each visit and got much more. My big achievement was my TOEFL score, good enough to join business school proudly. Moss Gray
You Can Make Mistake In Your Life But Do Not Make It In Your Second Chance.

There is always a second chance in a person's life even I got that but I did not make any mistake in my second chance. In my first attempt for A+ exam I was failed and in my second attempt I did not. I did not repeat my mistake at all. I chose Real-exams as my direct in my second chance from the found. I worked stiff all the time. In conclusion I conceded in A+ from all of my sleepless nights. Adolf Gee