Savings at RealExams!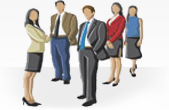 Limited Time
15% Discount OFFER
USE PROMOCODE
15OFF
RealExams Guarantee

14,000+ Customers
Money Back Guarantee
Free Of Cost Updates
Immediate Download
Regular Exam Updates
Superb Pass Rate of 98.9%
Power Packs
Save your money with Royal Packs for most popluar CompTIA and Microsoft certifications from Real-Exams.

Over 6 Year experience at your command
Matchless Success Rate of 99 %
Question and Answer material reaching figure of 3218
Preparation Labs standing at 108
3 dozen Experience technical writers
14,417 Successful Examinees
3,390 Demos available at click for download
Success at two week preparation
Our efficient training materials save your cost up to 78%

Easier way to pass
Nuts and bolt to get ready, take and get through the certification exams
Simple as ABC - immediate download
Unmatched - Protected Website for Online Shopping, Round the clock Support
Proficient - Provision of 90 day free of cost update to assure success
Reputed - More than 14,417 candidates relied on Realexams to get through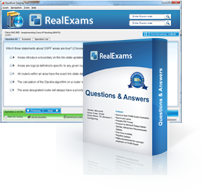 Try Our Free Demo
We value your privacy. We will not share your personal information with third parties without your consent. View our privacy policy.

See All

Success with RealExam
sign up for act exam Amazing Help

I passed in my ACT exam. I could not do this without your amazing help and support. Your tool is great and was instrumental in my passing the ACT exam. I can't thank you enough. I have had a wonderful experience taking your act study help that was closely related to actual exam act. This is a great tool and I will surely recommend it to other people interested in the ACT exam. Thank you for your wonderful services. Thank you so much! Cynthia Barboza
Real Exams Products Shaped Up My Preparation In The Perfect Manner

I have shaped up my career rather quite nicely due to the fact that I had the support of the study stuff. That study stuff has made it enormously easy for me due to which I got passed in the SDI SD0-101 exam. The contribution of Real Exams in that cannot be denied really as I got passed in the SD0-101 exam. Making things elegant and graceful is the specialty of Real Exams and that's why the number of people is huge who have gained their dream successes through Real Exams. Willie Miles
Sat study geometry

I Am Thanking You Finally I always wondered after reading comments would I be writing one day here, and see this day has arrived. Now, I am proudly saying that I have scored 680! In my sat study exam because of your guys. Sat math study guide geometry is great and other sections and instructions available too. Your materials were new and easily comprehendible! I am sure I couldn't have scored if I had not come here! Thank you so very much. Good luck all new SATers!